Amphibious
75 Cv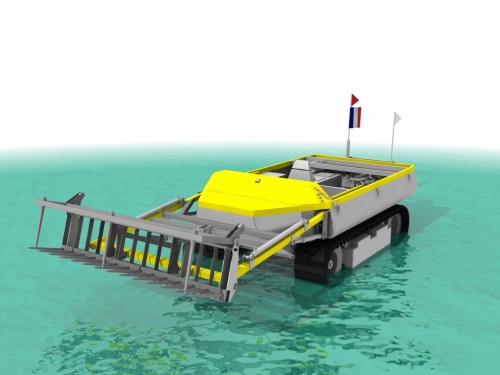 | | |
| --- | --- |
| Motor | 75 Cv (Perkins o Iveco) |
85 Cv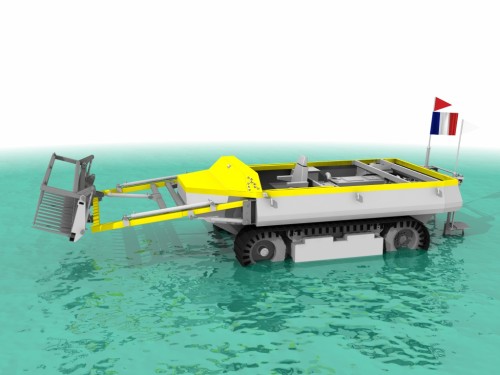 | | |
| --- | --- |
| Motor | 85 Cv (Perkins o Iveco) |
100 Cv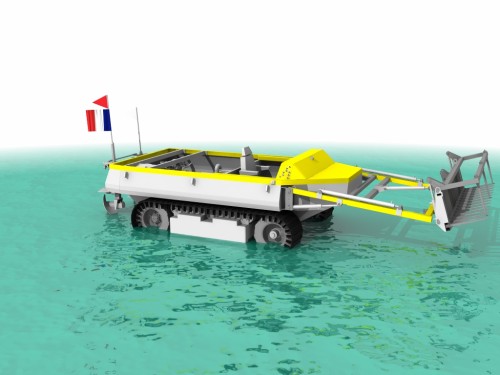 | | |
| --- | --- |
| Motor | 100 Cv (Perkins o Iveco) |
Accessories
This is linked to a receiver located on the machine. The operator can thus use all the functions of the boat, crawler tractor or amphibious vehicle at a distance of more than 200 metres (more on request).

The machine can be equipped with a camera, allowing the operator to monitor directly the machine's movements in the work zone. He can thus control the tool as if he were there.

With a 700 litre capacity, the bucket can extract mud, sand or other materials. It is equipped with a galvanised steel cutting edge to increase its service life and provide wider work capabilities.




The extraction fork lets BPH (Hydrostatic Carrier Boats) extract plants and roots to avoid regrowth. They can reach 2 to 3 metres in width depending on the type of machine.

In steel, they can extract a large quantity of plants or other floating objects, and resist impacts.

The water weed cutting blade allows you to cut herbaceous and subaquatic plants. It is available in three different types:

T-blade: two horizontal sections and two vertical sections driven by two connecting rods coupled to a hydraulic motor.
U-blade: a horizontal section and two vertical sections.
Cutting blade: One section fixed to a frame used for weed cutting at the water's surface or on the banks.